What's new?
05.09.2020. updated demo versions and documentation.
Description
Dpd "pickup paku bode" is a comfortable and safe alternative for sending and receiving parcels in Latvia.
There are already more than 140 pickup paku bode points all over Latvia. They are located in convenient and popular shops, salons and other service locations.
This OpenCart shipping extension will allow customers to select the available dpd "pickup paku bode" addresses from the list during checkout.
Features
Destination points update from store admin,
Dropdown selection of destination points in checkout,
Limit by longest edge, total length and weight,
Compatible with OpenCart 1.5.x and 2.x
Any theme, any checkout is supported (only OpenCart 2.x version).
Screenshots
Screenshot of extension configuration in OpenCart admin panel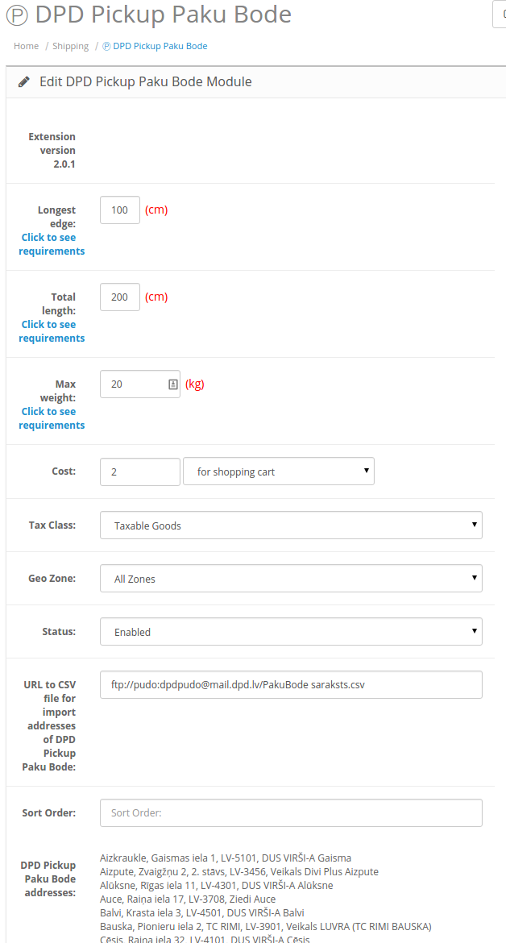 Screenshot showing checkout with dropdown selector for destination selection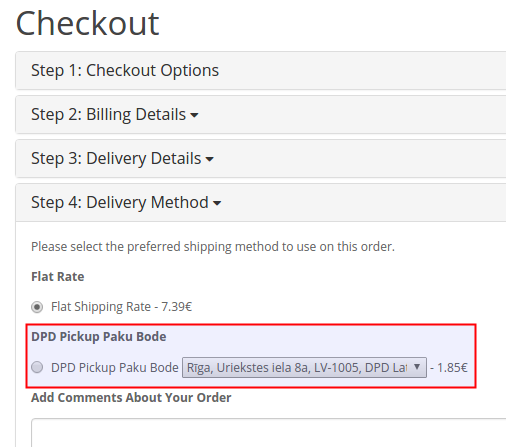 Screenshot showing shipping estimator on cart page
Demo available:
Documentation
Documentation is avaliable here
Support
Submit your request at partneris.lv contact form.
Specification
OpenCart versions supported
1.5x - 2.3.0.2
Technical support length
12 months
DPD Pickup Paku Bode Shipping Extension for OpenCart 1.5x and 2.x
Product code:

dpd-pakubode-shipping